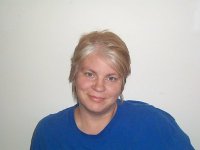 BFA Bethel College, New Brighton, MN 1987.
Masters work in Art Therapy, Mount Mary College, Wauwatosa, WI.
Aesthetics University, Wauwatosa, WI- 750 Hours certification training in 1992. 16 years of practice in Wisconsin.
2008 moved to New Mexico. Became Nationally Certified, NM License #6260.
CEU training ongoing including: deep tissue sports massage, hot stone, pre/post natal, infant massage, spa treatments including salt/sugar scrubs, herbal body wraps, therapeutic mud treatments, and aromatherapy.
2010 Lypossage Certification for all 3 zones.
Returned to Wisconsin in 2013 because Mike and I missed our Mommies! WI License #12300-146.
I live with my husband Mike, our 2 dogs-- Beau and Friz, and Grandma Hodgson who recently moved in with us when she needed a little more care. My Mom and Dad and 2 brothers along with their families all live in the general area. We found that family is very important to us!
We now miss our pygmy goats and chickens...the boys say they (the chickens) were yummy, but I did a short stint of vegetarianism. The goats went on to star in the Christmas play and retire at a petting zoo in Albuquerque--They are too famous to take my calls!! Our son is all grown up and out of the house as of now. I like to garden and hang out with my crew...
Mike, Noah and Beau...(the boys) and we got Friz a little bit after this picture! **It's hard to get a clear picture of her 'cause she's 16 pounds of "White Hot Fury" as she says in a voice that sounds suspiciously like my husband! She has also expressed some interest in being in charge of a blog, and why not-- she is in charge of everything else! Look for more to come on that...**